Sarnia Sea Lions Swim School
Sarnia Sea Lions was established  on 1 January 2013 in Guernsey, Channel Islands
The aim of Sarnia Sea Lions is to promote the teaching and practice of swimming by offering the opportunity for children from 4 months old and upwards to learn to swim; to learn to swim better; and to improve general swimming fitness and water safety awareness.
Natasha has established a working relationship with the Swimming Teachers' Association ("STA") who is a registered charity and internationally recognised organisation that currently has over 8,000 members.  The STA is the world's largest independent swimming teaching and lifesaving organisation, and delivers the highest quality training across four key business areas – Swimming Teaching, Lifesaving, First Aid and Leisure Management.
Sarnia Sea Lions aims to maintain and foster and develop the objective of the STA, which is
"The preservation of human life by the teaching of swimming, lifesaving and survival techniques."
The first swimming lessons commenced on 9th January 2013 and in 2016 Sarnia Sea Lions became a STA Swim Star Swim School.
The swimmers currently partaking in swimming lessons with the Sarnia Sea Lions, range in age from approx. 4 months upwards and are of various swimming abilities –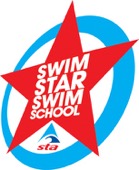 so you really are never too young or too old for us to get you swimming confidently and correctly in the water – whether it be your first time or your hundredth plus time!!
Natasha is highly experienced and offers top quality swimming lessons for all – using various techniques and has the upmost of patience to offer – so for the ultimate nervous swimmer – to the novice swimmer – to the swimmer who wants to perfect their techniques to a better standard, Sarnia Sea Lions is able to assist you all.
Please email [email protected] for further information.